EXPLORING BRITISH PAINTING 1880-1920 Week 2. Oct 23rd 2012.
The staging by Roger Fry in 1910 and 1912 of 'Post-Impressionist' exhibitions has often led to a belief that Britain was unaware of what had been happening in France in earlier decades. In fact there had been a series of exhibitions of work by French artists of the 'avant-garde' school during the 1880's and 1890's – staged by French art dealers – in London. And even earlier there had been a trickle of artists who had worked in Paris and been aware of the work of artists of the Realist School ( Courbet, the Barbizon School), and artists like Camille Pissarro and Edouard Manet. The Slade School of Art, and subsequently the New English Art Club, developed as a response by various artists to the fresh ideas and approaches they encountered.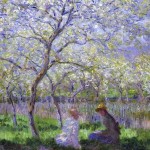 Monet : Springtime : 1886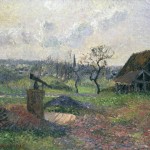 C.Pissarro : Brick Kilns at Eragny :1885
Gauguin : Le Pouldo : 1890
Last week we explored the types of work and attitudes which formed the cultural context in Britain – symbolised by the Royal Academy and its Annual Exhibition – which a growing number of artists found stultifying. This week we explored the types of work and attitudes which British artists found exciting and stimulating in the artistic climate of Paris in the last decades of the nineteenth century. What particularly excited the British artists was the way artists like, amongst many, Edouard Manet, Camille Pissarro, Claude Monet, Auguste Renoir, Edgar Degas, and Paul Gauguin were developing a fresh approach to 'realism'. The open-air (plein-air) painting, the depiction of real and ordinary people living real and ordinary lives in the real contemporary world, opened the eyes of British artists – infusing their own work and those they taught.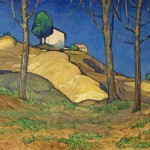 Alfred Thornton : Provence : 1919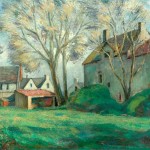 Alfred Thornton : A Cotswold Farm : 1924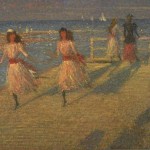 P W Steer : Girls Running, Walberswick Pier : 1889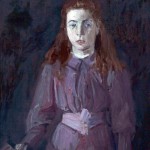 P W Steer : The Artist's Niece : 1893
French artists were not producing work in a 'style' – they were genuinely taking hold of the reins and experimenting, trying out avenues of exploration. Such was the artistic scenario of the Slade School, the New English Art Club, and subsequently the Camden Town Group and, later, the revitalised Royal College of Art.
David Addison. October 2012.