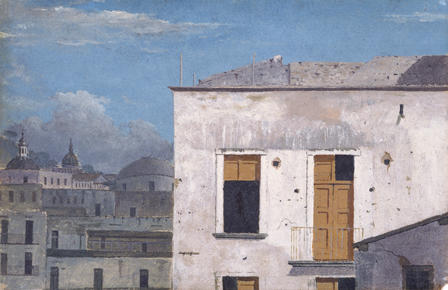 Thomas Jones : 'Buildings in Naples': 1782 : Cardiff, National Museum of Wales
Tucked away in a corner of several art galleries are sometimes small works by an artist who is almost completely unknown, at least in most British galleries, with a very ordinary sort of name – Thomas Jones. But a study of his work reveals things which are not by any means ordinary. Second son of a Welsh country squire he moved to London, after dropping out of Oxford University where he had originally intended to take Holy Orders, to enrol as a paid pupil of a fellow Welsh artist – Richard Wilson. As did many young gentlemen in the later eighteenth century he travelled to Europe, and particularly Italy. When staying in Naples he lodged in an apartment on the upper floor of a house – with views over the city. This painting is a product of that visit. Out of what was probably a rather mundane and uninteresting view out of his window the artist has produced something small, precious and very striking.
Much of the work we have by Jones are small watercolours and drawings – but he also produced a number of works in oil. Many watercolour artists work in oils tends to be overshadowed by their watercolour technique – but not Thomas Jones. It is well worth-while closely studying an oil work like this one and exploring the richness of his painting technique. I am struck by how similar it is to the work of twentieth century British artists like John Piper and Graham Sutherland in its use of texture, including brush work. Unlike Sutherland or Piper Thomas Jones was working before tubes of paint or flat brushes. In terms of composition he also departs from the usual approach of late eighteenth century artists in not including any figures. The dynamic of the work relies solely on his precise depiction of buildings – and ordinary buildings at that. You can feel the plaster, stone, and tiles – and the strong use of verticals and horizontals give a power to his work quite beyond the small size of the work (14 x 26cms).
On the death of his elder brother in 1789 Thomas returned to Wales to take over the family estate – from then on he only painted for his own amusement and for family and friends.