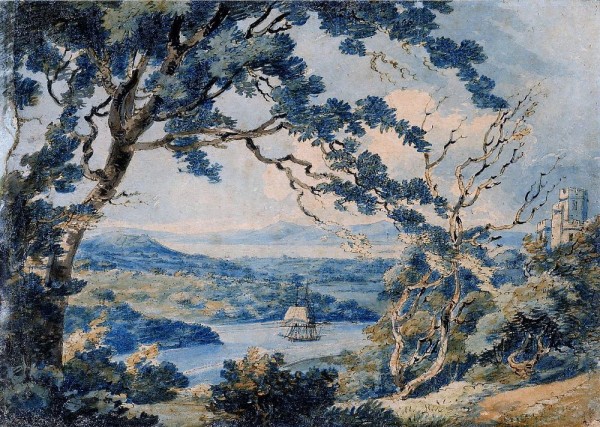 J.M.W.Turner : watercolour and ink : 'Cook's Folly, Clifton.' c1791.
INTRODUCTION
Art gallery collections, particularly those in the provinces, are usually described and classified in terms of their oil and tempera paintings. There is nothing essentially wrong in that fact because a visitor entering an art gallery will be surrounded by such works, with many more, listed in catalogues, stored away.  What is less well-known, and often unknown and unlisted, are the huge numbers of what are known as 'Works on Paper' held by our art galleries. In this occasional series I shall be exploring this sort of work with particular reference to the collection held at Cheltenham Art Gallery and Museum (The Wilson).
First of all – what is meant by 'Works on Paper'?  Quite simply it is what the label says – art works on paper. The term covers a wide field in which the only common factor is that their 'support' is paper – also including such supports as vellum or card. Put simply, in terms of production, there are four major categories of work – drawings, watercolours, 'paintings' (by which is meant the use of opaque paint such as tempera, gouache, and sometimes oil), and prints.  This latter also has several sub-divisions recording the various forms of print-making – predominantly they are etchings, engravings, block-prints (eg. wood-cut, wood-engraving, lino-print), lithographs, and screen-prints.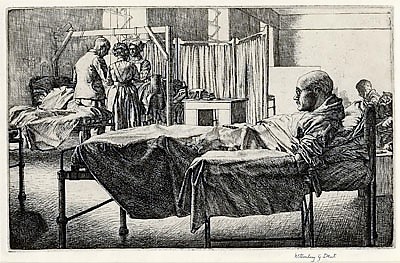 R (Reggie) Stanley Dent, 1909-1991: The Hospital Bed : etching
Classifying and recording the subject matter of these works on paper can be very complicated. An oil painting can be fairly simply recorded as, for instance, 'oil on canvas' (o/c) with a record of the size of the canvas or panel. With works on paper this is not so easy. The size of the 'support', the piece of paper, needs to be recorded; then as to whether this is a 'study', a 'design', or a finished work. If it is a print the size of the impression (the 'plate size') also needs to be recorded. Sketchbooks are a particular problem as each page has to be recorded within the one overall record of the item.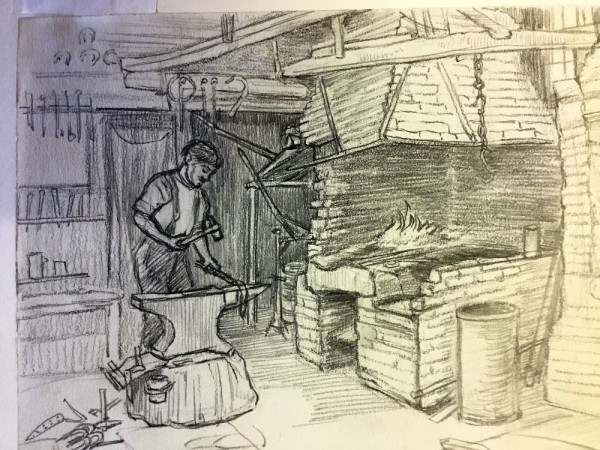 Freda Derrick : 'Interior of a Blacksmith's Shop' : drawing
Storage of works on paper is a difficult problem. Inevitably the works come in a wide variety of sizes and require appropriate sized storage boxes and the fragility of such items requires careful handling and storing. Both the public exhibition and the storage of such works requires the careful control and monitoring of climatic conditions (dampness, dryness) and protection from damage by exposure to daylight and some artificial lighting. All of which makes the task of providing works for public display a difficult and time consuming process – and thus explains why, in art galleries to-day, there are so few opportunities for the general public to see the richness and importance of these collections.
Terry Frost, 1915-2003: 'Red and Black' : screenprint
I believe, very firmly, that works on paper are highly important and informative – not an inferior species. From the social history point of view such works provide invaluable information about life – people, places and things, including working practices of the past. From an art historian's and Curator's perspective they can provide invaluable clues as to the background to finished masterpieces or abandoned projects.
My own introduction to the importance and marvels of works on paper was through my art master at school who introduced me to some volumes of reproductions of drawings and sketches by Claude Lorrain.  In practical terms I learnt the craft of drawing as an art student and art history student – first at Ipswich Art School and then at the Fine Art Department of Kings College, Durham University (now the University of Newcastle). I became acutely aware of both the difficulties and the magic of sketching, drawing, and print-making.  As a young art gallery curator I soon became aware of the rich collection held by Bradford City Art Gallery (Cartwright Hall) and the treasures of Print Rooms (not confined to prints ) at other art galleries such as Leeds and Birmingham and, particularly, that at the British Museum. Subsequently I moved to Cheltenham Art Gallery and Museum – to which I have now returned, on a Volunteer basis – and whose collection of works on paper I will discuss in this occasional series of blogs using, in the main, illustrations of works in the Cheltenham collection.
David Addison.