An Intriguing Spectacle.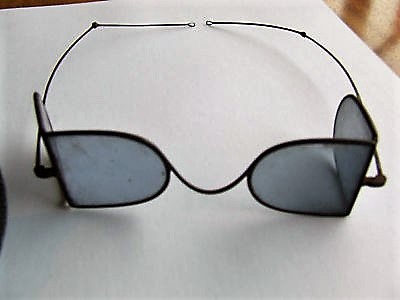 As I was exploring, and thoroughly enjoying, the Paper Store at the Cheltenham Art Gallery and Museum (The Wilson) I came across an intriguing item which resonated with a problem I have with my eye-sight. It is nothing too serious but very irritating at times – basically it is that I find it difficult at times to cope with 'glare' when outside and particularly on sunny days.  My spectacles are of the usual sort which cannot cope with glare from the top and the side.  I have thought about letting my eyebrows grow in attempt to cut out the glare from above – I can see now why Denis Healey, the former Labour politician, had such a luxurious growth of eyebrow hair. I get some relief from a wide-brimmed sun-hat (bought at Lords on one of my few visits to a cricket match) but attempting to sit back with such a hat proves impossible. My latest resort is something I find horrific and vowed never to wear – a baseball cap!!!                                                                                                        The problem of glare from the side, which I had begun to think was insurmountable, was, in a visit to the Paper Store, solved by something that Cheltenham had solved in the nineteenth century!  In one of the cases, displayed amongst various intriguing items relating to historic Cheltenham pharmacists and opticians, was the answer! It was a pair of spectacles with blue tinted lenses (similar to the one in the illustration above) which had, affixed, side pieces of a similar hue. EUREKA!!  Here was history revealing that, in spite of our advanced research and technology, our forebears often had the answer to modern problems.  But where, in our sophisticated technological age, can we obtain such spectacles?
But that still leaves the problem of glare from above. I am reluctant to grow Denis Healey eyebrows – and my wife is dead against it.  So I am condemned to wearing a frightful baseball cap.  The Paper Store did not provide a solution – at least this time. Perhaps the relevant curatorial staff could look into the problem which I am sure was solved by our Victorian forebears.
David Addison.