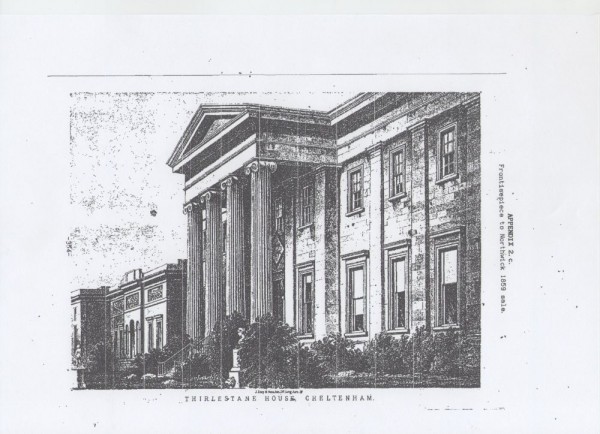 Along with going through my paintings and drawings I have also been going through my art history research papers. ?My major concern for many years were the picture collectors of Bristol and Gloucestershire from about 1800 to 1860 – a particular concern growing out of that earlier work has been, and continues to be, the Northwick Collection. ?Recognised as one of Britain's major collectors, with an early interest in early Italian work, the fate of that collection caused by Lord Northwick apparently not making a Will means that there are many unanswered questions. ?There have been several forays by art historians and writers into the Northwick Collection and Lord Northwick himself.?What was recognised early on was Northwick?s pioneering interest in early Italian painting at a time when little attention was paid to these ?primitives? ? and that interest seems to remain almost the sole concern of later and present commentators. A close study of the Northwick collection in its entirety reveals that there was far more to his collecting interests ? not least his purchase and patronage of modern British art. (?a subject I deal with later?), ?and so to add to that bare corpus of knowledge I think it is time I shared some of my own comments and findings.
My first visit takes a glance at Thirlestaine House at a point when it had reached maturity in terms of paintings and buildings.
THIRLESTAINE HOUSE in the 1850?s?
As the year 1850 dawned John, 2nd Baron Northwick, could look with satisfaction on his Cheltenham residence, Thirlestaine House. Bought in 1838 he had developed the property with a number of new rooms ? and for him that meant more hanging space for his picture collection. ?Northwick Park at Blockley, on the borders of Gloucester and Worcestershire, remained the active family seat where Lord Northwick ran a large estate with farms and woodland. The house at Blockley itself contained an extensive collection of works of art and they remained, plus additions, in situ. On buying Thirlestaine House Lord Northwick had sold his London house, in Connaught Place, and ?works of art in that house were transferred to Cheltenham. ?The 1840?s saw not only additions to the picture collection ?but also additions to his houses.
The move to Cheltenham signalled Northwick?s increasing concentration on his picture collection rather than his antiquities. In pursuit of this passion he quickly became known for his purchasing activity and he was a regular feature of Christie?s Auction Rooms in London. In 1846 he had produced a catalogue of his collection at Cheltenham ? a publication seized on by the ?Art Journal? who published a lengthy article on that collection but also the works housed at Northwick Park. ? ? ? ? ? ? Cheltenham and Thirlestaine House was fast becoming a ?must? place to visit for art enthusiasts and that emergent new breed, the art historian.?????? By 1850 the noble Lord and Thirlestaine House were firmly established – not least as an ornament and important cultural addition to the town of Cheltenham to which the local inhabitants had freedom of access. The weekly Cheltenham gossip magazine, the ?Cheltenham Looker-On?, had for some years been recording the comings and goings of people and pictures to Thirlestaine House reflecting the town?s pride and sense of ownership of this cultural icon.
The death of Lord Northwick ?and his dying intestate, and being unmarried and without issue, ?necessitated the whole collection, from Thirlestaine House and Northwick Park, to be put up for sale in 1859 and 1860 ? curiously not sold by Christie?s, with whom Lord Northwick had had a strong connection over many years, but by Phillips. Those sales of 1859 and 1860 took place at Thirlestaine House.
Looking at the catalogue lists of works, and the individual works where we know them to now exist, is in a sense only scratching the surface, is seeing them out of context. This is not a passive collection ? Northwick's approach to collecting, and methods of selection, his contacts with other collectors and with dealers, his constant revision of hanging and purchase, and his practical concern with such things as framing and conservation are a fascinating subject.
David Addison.