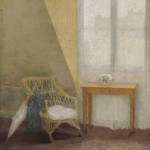 Gwen John :
A Corner of the Artist's Room in Paris
1907-1909 
 Sheffield.
A few years ago there was staged an important exhibition, at Tate Britain and the National Museum of Wales, of the work of the brother and sister Augustus and Gwen John. Prior to this exhibition I, and I suspect many other people, had heard and read quite a lot about Augustus but very little about Gwen. Received wisdom was that the brother was a brilliant, if erratic, genius and luminary of British art of the early twentieth century. But of Gwen little was said or written. This exhibition proved how very wrong were these assumptions.
Unlike her brother Gwen was not a flamboyant extrovert – quite the opposite. Both trained at the Slade School in its early revolutionary days of the late nineteenth century when Paris was as much part of the curriculum as London. Paris never had any lasting claim on Augustus – but for Gwen it became her life. A quiet, meditative, life – but full of surprising facets and enthusiasms. In effect she stayed in France for the rest of her life – moving from seclusion in garret rooms, to being Rodin's mistress, to living with a community of nuns.
Gwen's work reflects clearly her character – meditative, sometimes lonely, soul searching, contemplative, with fiercely personal relationships and a single minded and original approach to painting. The series of works she did depicting her own room, and a remarkable series of portraits of the community of nuns, are deep and perhaps mystical, yet profoundly realistic but with strong abstract qualities. In terms of painting she developed a unique method of working on a very rough and absorbent ground which produced an extremely powerful dry texture to her work.
Like van Gogh's 'Chair' this work is a powerful self-portrait of the artist – more powerful because the artist is not present revealing the personality of the sitter.  "My room is so delicious after a whole day outside; it seems to me that I am not myself except in my room." (Gwen John). The work has a  concentrated power without being a work of great size or flamboyance – poles apart from her brother Augustus.