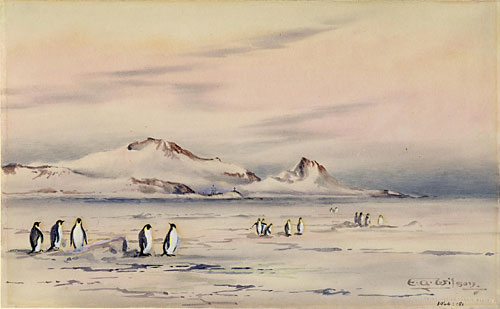 'Discovery Winter Quarters' : 1904
It is always a delight to have a chance to view, and discuss, works which are usually not on public display. One such recent event I found most stimulating – exploring the explorer Edward Wilson's life and work through a small selection of the water-colours, drawings, and sketch-books held at Cheltenham Art Gallery and Museum (The Wilson). The Curator responsible for the collection had arranged three one hour sessions one Saturday recently and asked me to join her partly to contribute an 'Art' perspective and partly because many years ago I was involved in the collection.                                    Edward Wilson is a fascinating Cheltenham character – Antarctic explorer (with Scott), doctor and surgeon, naturalist, and artist and illustrator. These Saturday hour sessions, well attended, aimed to provide glimpses of Wilson throughout his life – from childhood onwards.  It was clear that observing and drawing was a very early enthusiasm – the notes, sketches, and drawings clearly showed that this boy was a 'natural'.  Fortunately his parents encouraged this precocious talent – alongside his other studies at school
.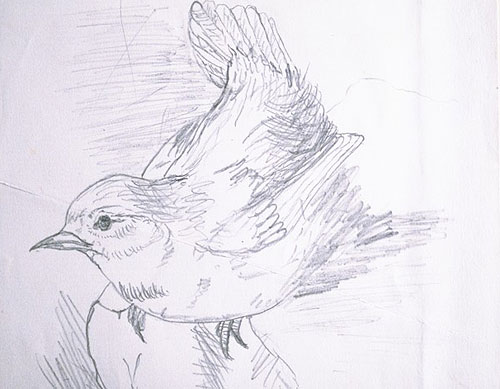 A Wren : 1886
In the second half of the nineteenth century (he was born in 1872) drawing was a fundamental skill for a number of professions and activities – not purely an 'art' activity.  The training of a profession of 'artists' as we understand it did not really get going until the end of the nineteenth century –  the founding of the Royal Academy Schools in 1768 was primarily a training for skilled artisans. Attending Cheltenham College he would have found a strong 'Drawing Department' as the school, like several schools throughout the country, had a strong tradition of training boys for the military and for such professions as medicine where drawing was essential.  Medicine, particularly surgery, required accurate and detailed recording – and the military, both army and navy, were the 'eyes' of the British Empire recording new territories and unexplored areas as well as coasts and terrain.  The great tradition of British exploration from Elizabethan times onward had as essential members doctors (particularly surgeons), botanists and ornithologists, and artists – sometimes, as in Wilson's case, all rolled into one. In this context we noted that Scott had started to include photography – and we were able to look at some of these early photographs and compare them with the paintings and drawings of Edward Wilson.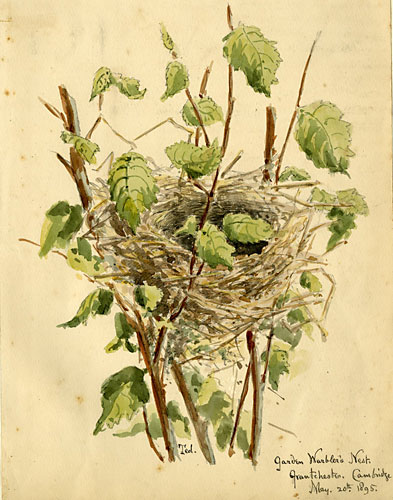 Garden Warblers Nest, Grantchester, Cambridge : 1895
On leaving school , in 1890, Edward went up to University at Cambridge, where he read Natural Sciences and Medicine.  We were able to see works from his Cheltenham years and whilst at Cambridge – from detailed analytical work to broader 'landscapes'. After Cambridge he went to London to train as a surgeon and qualified in 1901 – a period in which he continued drawing and painting.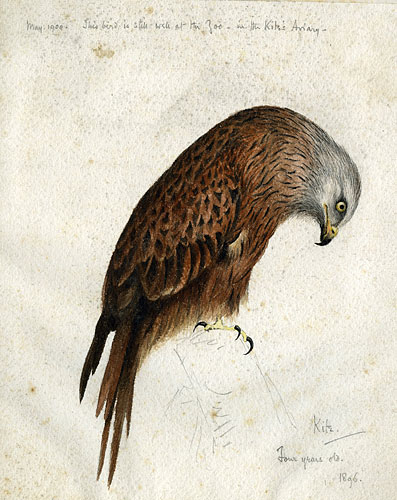 A Kite : 1896.
During the course of the sessions two pertinent questions arose on the art side – can we accept him as an 'artist'? – and how on earth do you paint in Antarctica?  The first can be answered quite simply by looking at the work he produced – yes, his work is of a high calibre. Nineteenth century society, the rising middle and professional classes as well as the aristocracy, regarded painting and drawing as a necessary and enjoyable accomplishment – witness the large number of 'sketching clubs' during the period.  Wilson, competent as he was, did not see any necessity to enter his work into public exhibitions or get involved with a commercial art market – he enjoyed his own ability and saw it as an essential ingredient of his working and personal life.  In terms of using his skills in the extreme cold of Antarctica – it clearly must have exercised his mind and those of his explorer companions.  Watercolour was always his chosen painting medium – and there was no shortage of water in Antarctica! On display during our sessions were the sort of items which he used – solid blocks of watercolour pigment – soft brushes – graphite pencils or sticks – charcoal – pens and India Ink. In the latter case it is probably unlikely he took bottles of liquid India Ink – so he could have used the centuries old method of a solid stick of 'lamp black', scraping some off and mixing it with water to the consistency he wanted.  So much for the materials – but what about how he painted or drew? Popping outside with a portable easel, a canvas stool, and his box of painting equipment was clearly not possible. In fact he made very quick shorthand sketches outside, marking them, often later (he had a terrific visual memory), with his own notation concerning such things as colour and detail. When inside he had a corner of the hut where he developed his 'jottings' into a final form – we saw a photograph of him doing just that.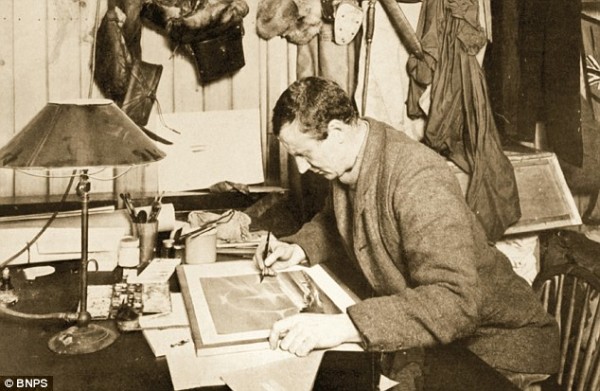 The three sessions were very enjoyable for all concerned – much discussion and exchange of ideas and comments. I look forward to more of these sessions exploring the often hidden corners of the work and collections of Cheltenham Art Gallery and Museum.